MAKinteract (MAKE + interaction) is a research lab in the department of Industrial Design at KAIST working at the intersection of design and engineering, in the field of Human-Computer Interaction (HCI).
Through user-centered design, fabrication, iterative prototyping and users studies we make new tangible and wearable systems and toolkits for helping designers inventing yet unseen interactions.
---
Meet the makers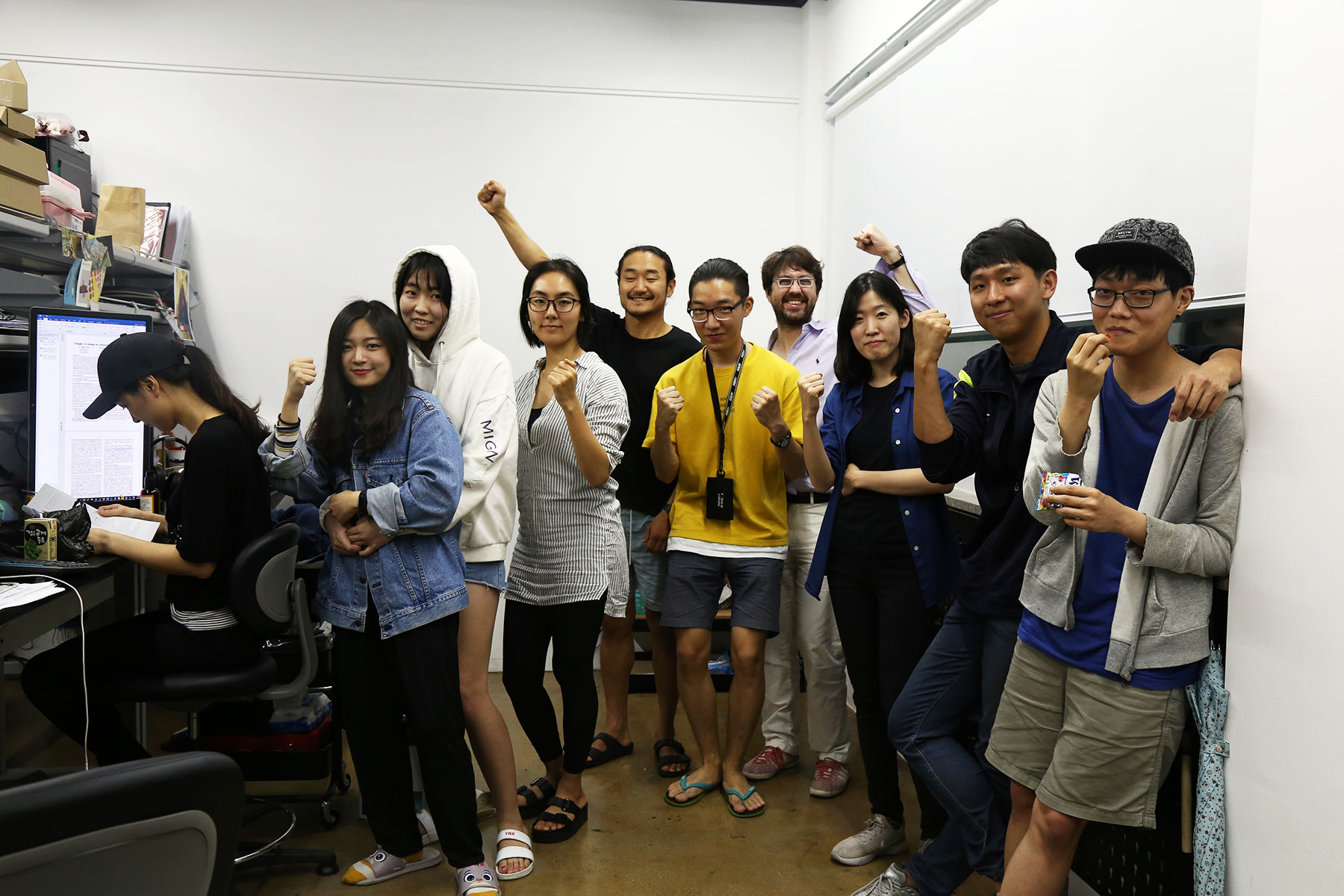 Few hours before the CHI deadline...
Collaborators
Our research was possible also thanks to numerous collaborators: Ian Oakley (UNIST), Daniel Ashbrook (University of Copenhagen), Xing-Dong Yang (Dartmouth College), Liwei Chan (National Chiao Tung University), Pedro Lopes (University of Chicago), Aaron Quigley and Hui-Shyong (University of St Andrews), Hamed Alavi and Himanshu Verma (University of Fribourg), Youngjun Cho (UCL), Hyeon-Jeong Suk (KAIST Design), Geehyuk Lee (KAIST School of Computing), Hyoungshick Kim (SKKU).
---
For perspective students and collaborators
We look forward to collaborate with new students, researchers, interns, and external collaborators. Specifically, we are currently searching for students with the following skillset:
Physical computing and electronics prototyping
Software programming (Java, Unity, C++)
Digital fabrication, 3D CAD and mechanical analysis
Analytical skillset and quantitative statistical analysis
Students without this background are strongly encourage to attend courses such as Software Prototyping (ID311) and Interaction Prototyping (ID220), or their equivalent. Finally, prospective students are also encouraged to submit a portfolio of their past projects demonstrating their making capabilities.
Regarding the application process, the lab cannot directly accept candidates, who instead are required to apply through the KAIST admission site. For further information about the application process please refer to these pages for the Master, Ph.D., and Master+Ph.D combined programs.
Nevertheless, before applying you you might want to consider talking with professor Andrea Bianchi.
Feel free to contact us for further questions